Where do I start?
The quickstart walks you through the process of creating a simple game.
Ren'Py comes with a comprehensive, if complex, reference manual, also available in Japanese.
The best places to ask questions about Ren'Py are the Lemma Soft Forums and the #renpy IRC channel.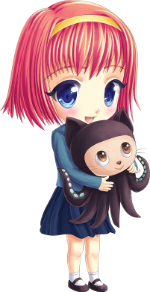 If you think you've found a bug in Ren'Py, report it to our GitHub issue tracker.
If you'd like to contribute to Ren'Py development, please visit our GitHub project page.
How do I keep in touch?
We make news about Ren'Py available on a number of social platforms:
Twitter: You can follow Ren'Py's lead developer @renpytom for release announcements, development news, and general commentary on life.
Facebook: We announce new releases and other community news on our Facebook page.
Deviantart: Artists interested in Ren'Py and visual novels might want to visit our DeviantArt group.